Bachelor's Degree
The aim of bachelor's studies in military sciences is to produce officers for the Defence Forces and the Border Guard who are capable of extensively combining theory and practice.
The graduating officers will possess the necessary skills for scientific thinking and Master's studies. Officers who graduate with a bachelor's degree are professional and qualified. The officers have the special know-how needed for the tasks in their services and branches The information, skills and attitudes required of an officer are developed throughout the three-year bachelor programme and in all fields of study.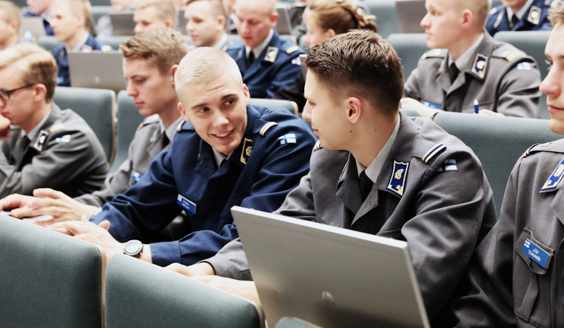 Students study the following:
Leadership: "The desire and ability to lead and take responsibility."
Operation skills: "The desire and ability to win battles."
Performance: "The desire and ability to develop."
Education: "The desire and ability to learn and teach."
Research: "The desire and ability to understand."
Students studying for their Bachelor of Military Sciences degree serve in the rank of cadet. Cadets who complete their Bachelor's degree and begin working in the Finnish Defence Forces receive a fixed-term junior officer's commission and are promoted to the rank of lieutenant.
Degree Structure
The Bachelor of Military Sciences degree is the first university degree and it comprises 180 ECTS. In addition, Bachelor's students complete 30 ECTS worth of professional studies to become qualified officers. The students complete their bachelor's degrees (210 credits) in three years. The bachelor's degree in military sciencse combines academic and professional expertise with an officer's education. The degree is divided into three phases:
• Obligatory tri-service studies (80 credits)
All cadets complete these studies, as they form the basis of common set of skills and knowledge for all officers. These studies are completed at the National Defence University (NDU).
• Service-specific studies (minimum 40 credits)
Students complete these studies at service schools where they specialise in the tasks required be the service that they belong to. The extent of the studies depends on the programmes. The National Defence University dispenses some of the teaching while most is done by the service schools (Army Academy, Naval Academy, Air Force Academy).
• Branch studies (maximum 90 credits)
Branch studies have students specialising in their own branch. Again, the extent of the studies depends on the branch. Teaching takes place at service schools, branch schools and functional area schools (incl. the Logistics School of the Defence Forces Logistics Command and the Border Guard's Border and Coast Guard Academy).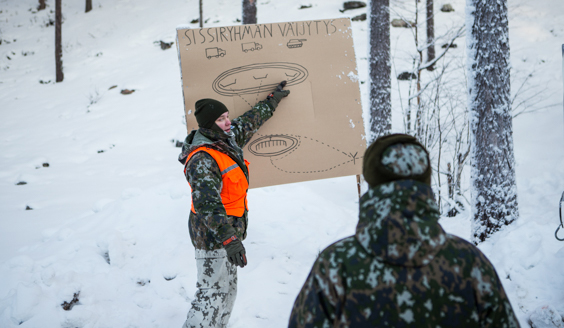 Programmes and specialisation
There are four alternative study programmes within a bachelor's programme and 19 specialisations altogether:
The Army programme within which students specialise in the following:
Infantry and anti-armour
Mortar
Armour
Reconnaissance
Electronic Warfare
Field Artillery
Air Defence
Military Engineer
Army C4 programme
Logistics programme
Border Guard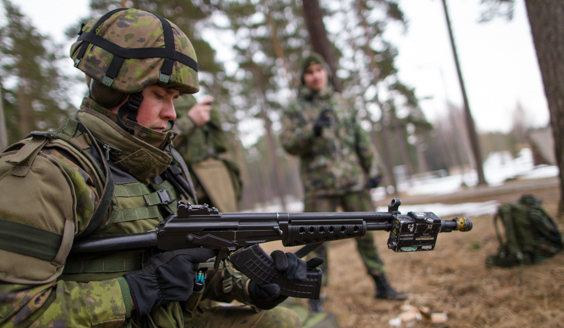 The Navy programme within which students specialise in the following:
Naval
Coastal forces
Navy C5
Coast Guard
The Air Force programme within which students specialise in the following:
Aircraft and Weapons Systems
Air Force C5
Pilot Officer Programme within which students specialise in the following:
Air Force Officer Pilot
Army Helicopter Pilot
Applying