Strategy
The National Defence University operates with research-based information and innovative instruction at the core of operational art geared for the future.
The main task of the University is to generate the competence required of Defence Forces and Border Guard officers all through their careers. This competence is a combination of the know how acquired by officers during their studies and the values and attitude which equip them with an aptitude to keep improving their skills and knowledge and work as officers. The University contributes to the comprehensive security of the nation and the stability of the society by its research and competence in the field of military science. Research and competence are activelymade available for use by interest groups and the whole society.
Strategy is implemented through the following areas of development: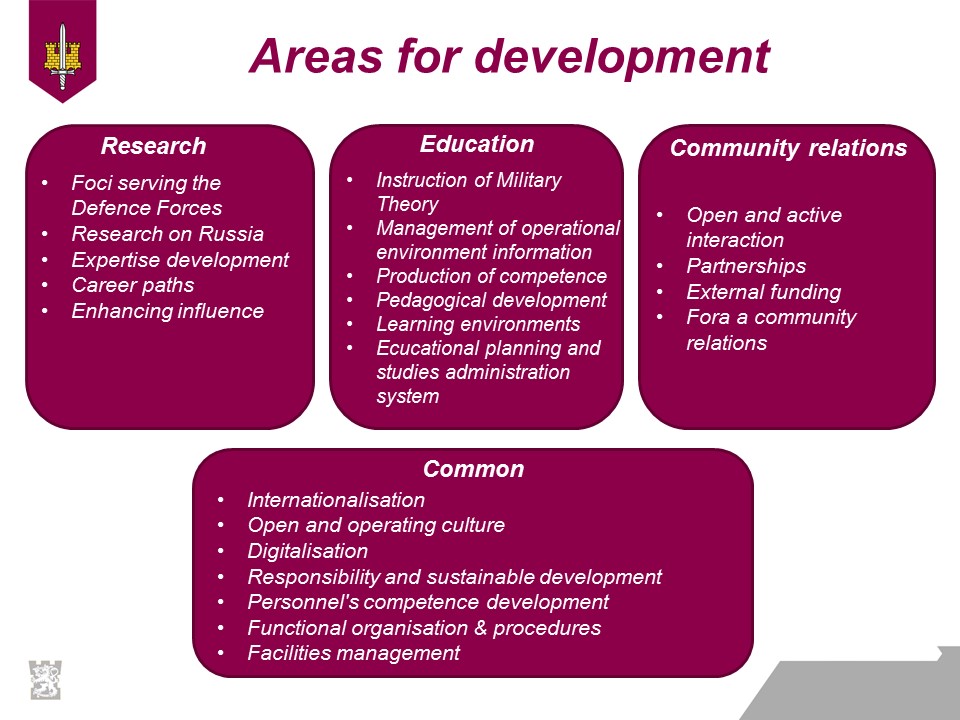 Principles guiding activities
The activities of the National Defence University are based on the values of the Defence Forces which include patriotism, professionalism, justice, responsibility, reliability and cooperation. The National Defence University contributes to the implementation of these values by its expertise, atmosphere conducive to development, reliability of its activities and operating culture promoting a sense of unity. In practice, the National Defence University implements the Defence Forces' values by observing the following principles:
The activities are aimed at securing and developing the operating conditions of the Defence Forces and Border Guard in the future.
Most importantly, the National Defence University provides instruction which is founded on research and meets the competence requirements of working life, and will satisfy the criteria set for university instruction in the future as well.
We direct education in the field of military science provided by establishments of military education and coordinate military professional education and training.
Innovativeness in education relies on continuous improvement and renewal requiring students, teachers and education support services to work together. The available learning environments contribute to the versatility of instruction and fluency of studying.
Instruction is student centered with the objective of supporting students' development. The objective of instruction is to cover the entire range of competencies required of officers during their careers. Continuing education is flexible and planned and implemented according to need.
The research conducted by the University fulfils scientific criteria and abides by good research practices.
With the help of international and national cooperation partnerships, the National Defence University generates the competence required for managing the changing operational environment, produces research, and ensures adequate financial resources.
Working and studying at the University is based on the principle of equality and equal opportunity, and it fosters the well-being and security of all students and personnel. Together, we will ensure the development of the University and the Defence Forces in the future as well. It takes the initiative, participation and commitment of each and every one of us for the University to be successful in the future as well.