Military Academy
The Military Academy is located in Santahamina, Helsinki. It is responsible for the Bachelor of Military Sciences studies given in the National Defence University and also provides guidance on the studies organised in the Service and branch schools.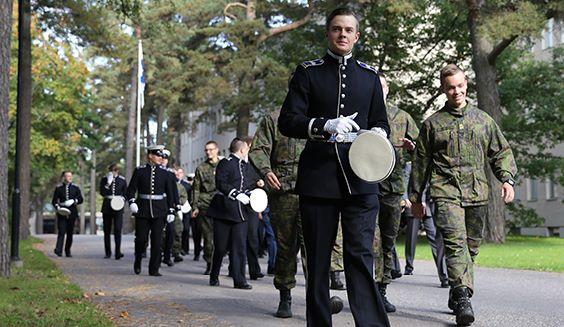 The Bachelor of Military Sciences degree is the first university degree and it comprises 180 ECTS. Along with the degree, the students complete a total of 30 ECTS credits of military vocational studies, which are a part of the 210 ECTS credits required for a commission as an officer. The degree and its studies are completed in three years. The students of the Military Academy are called cadets. A cadet graduating with a Bachelor of Military Sciences is guaranteed a job in the Defence Forces. Upon graduation s/he is promoted to the rank of Lieutenant and begins working in his/her assigned Service. Often the first duties are related to conscript training.
The anniversary of the Military Academy is celebrated on 20 March. The history and the traditions of the Military Academy reach back all the way to 1779, when the first military academy was established in Haapaniemi in Rantasalmi. On 20 March 1779 Colonel Yrjö Maunu Sprengtporten sent a written petition to Gustav III of Sweden to establish a permanent military academy.
The honourary march of the Military Academy is Ateenalaisten laulu (the Athenians' Song). The march was composed by Jean Sibelius and it was adopted on 18 February 1920.
The emblem and most biding object of the Military Academy of an independent Finland is its Colours. The Colour was a gift to the Military Academy from the former cadets of the Hamina Military Academy. It was consecrated at the Senate Square in Helsinki on 16 May 1922. The colour consists of a white field with the Finnish lion flanked on its left by the coat of arms of the town of Hamina, under it the coat of arms of Savo and the coat of arms of the city of Helsinki to the right. The coats of arms are connected by a ribbon with the text "Constantem Decorat Honor " which translates to Honour is the reward of the steadfast. The years at the corners signify the following: in 1779 Haapaniemi Military Academy was established, in 1812 the Haapaniemi Topographic Corps, in 1819 the decision was made to establish the Hamina Military Academy and finally in 1919 the Military Academy of an independent Finland was established. The point of the staff also has the 4th Class Cross of Liberty awarded to the Military Academy by Marshal Mannerheim in his order of the day on 26 May 1941.