The UNPOSMC aims to improve security of the UN personnel – this year as a hybrid course
In cooperation with the United Nations Department of Safety and Security (UNDSS) and the United Nations Department of Peace Operations (UNDPO), the Finnish Defence Forces International Centre (FINCENT) conducted the third UN Peace Operations Security Management Course (UNPOSMC) during the summer and autumn of 2022. The last phase of the course took place between 17-21 Oct in Santahamina, Finland.
UNPOSMC is designed to reflect the UNDSS Security Risk Management model, which is a tool to analyze and manage safety and security risks to United Nations personnel, assets and operations. The aim of the course is to prepare all UN system components in a peace operations context to ensure that programs are delivered within an acceptable level of security risk. This goal is achieved by helping the participants understand the scope and responsibilities of the military, police and civilian operators working in the field.
This year the UNPOSMC was structured as a hybrid course. Before the Advanced Phase, during which the participants worked and interacted together in person, the learners independently completed the online pre-learning phase via the Finnish Defence Forces Learning Management System, PV Moodle. The second phase of the course was divided into Basic and Advanced Phases. In the Basic Phase, the learners worked online led by instructors, and last week the learning experience culminated in the residential advanced phase as theory was turned into practice.
Almost every continent was represented by the course participants who are currently working as security decision makers or security professionals in different missions around the world as civilian personnel, police or military operators. The participants were pleased with the implementation of the course, emphasizing the importance of face-to-face interaction and the possibility to share experiences with each other, as well as the progressive procession of the course. The instructors' wide field experience was appreciated by the participants too.
"In the first online phase of the course we learned about the UN Security Management System. Then, in the facilitator-led online course we heard about the facilitators´ experience from the field and during the last phase we are interacting, discussing our own scenarios and presenting our own plans. The course has been proceeding progressively, for which I want to thank all the organizers," says Lt Col Surendra Singh Rajawat, who currently works in the United Nations Disengagement Observer Force (UNDOF).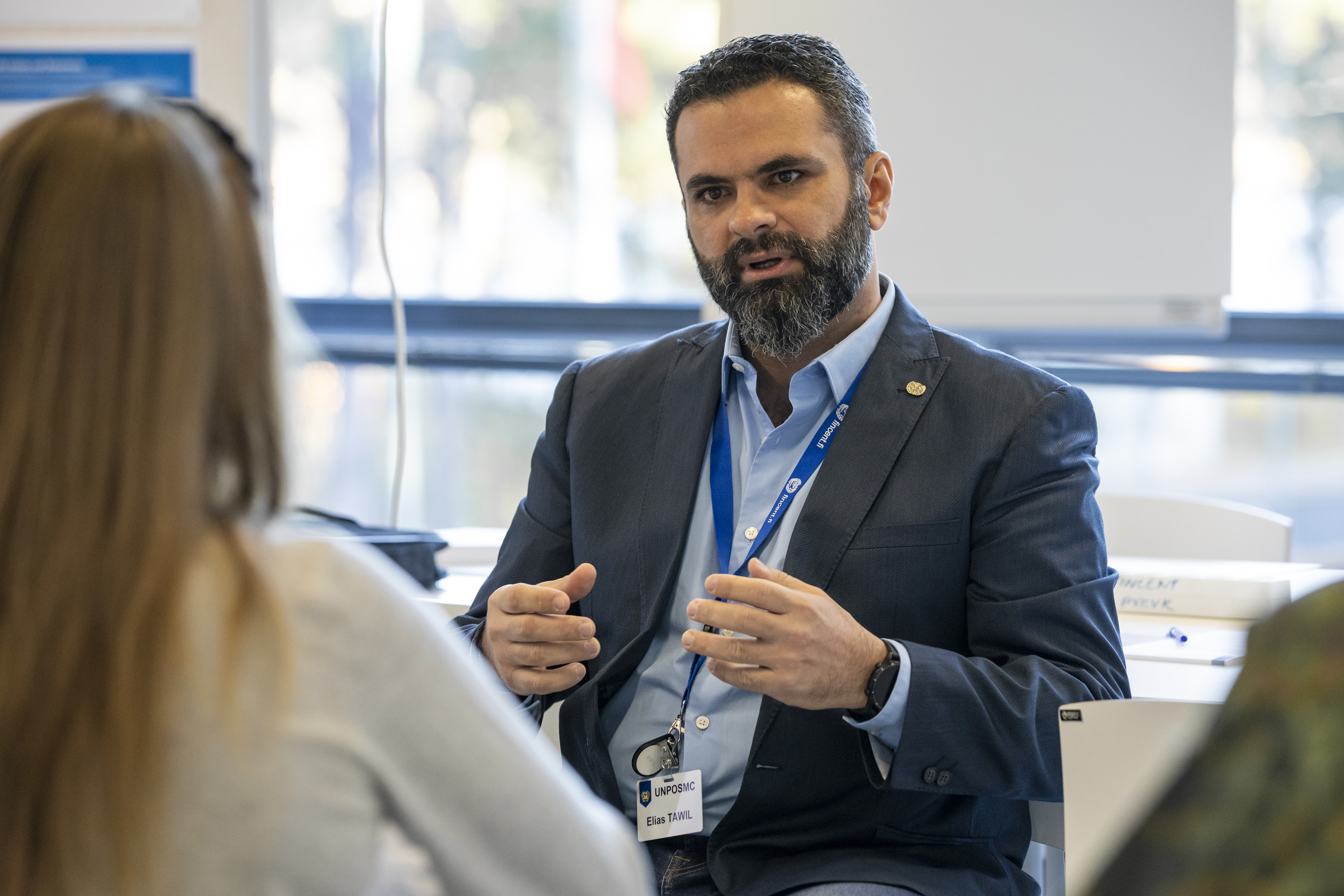 The course was seen as an advantage for the future career by the UNICEF Security Manager, Elias Tawil, who is from Lebanon and currently based in Haiti:
"As a civilian security manager, I have never had a chance to work with military or police components of the UN, and now sitting here with them and seeing how they think and plan and act is very interesting. The knowledge I gain here helps me a lot to create more efficient cooperation with these other operators."
Senior Instructor Mr Enrique F. Oribe van Bylandt from the UN Department of Safety and Security highlights the importance of the UNPOSMC for those working in peacekeeping operations, and expresses his gratitude for Finnish cooperation:
"From the UN perspective it has been a pleasure to work with FINCENT and the Government of Finland in organizing the UNPOSMC. This course provides useful keys to improve integrated collaboration of different actors in the field, and offers guidance to fill the gap of understanding of security cooperation between the operative sectors. I look forward for increased cooperation between the UNDSS, UNDPO, UN System organizations, FINCENT and other regional faculties in organizing the course."